FlexEnable wins prestigious Disruptive Innovation of the Year at 2021 TechWorks Awards
Technology
Date

13 Dec 2021

Sectors

Technology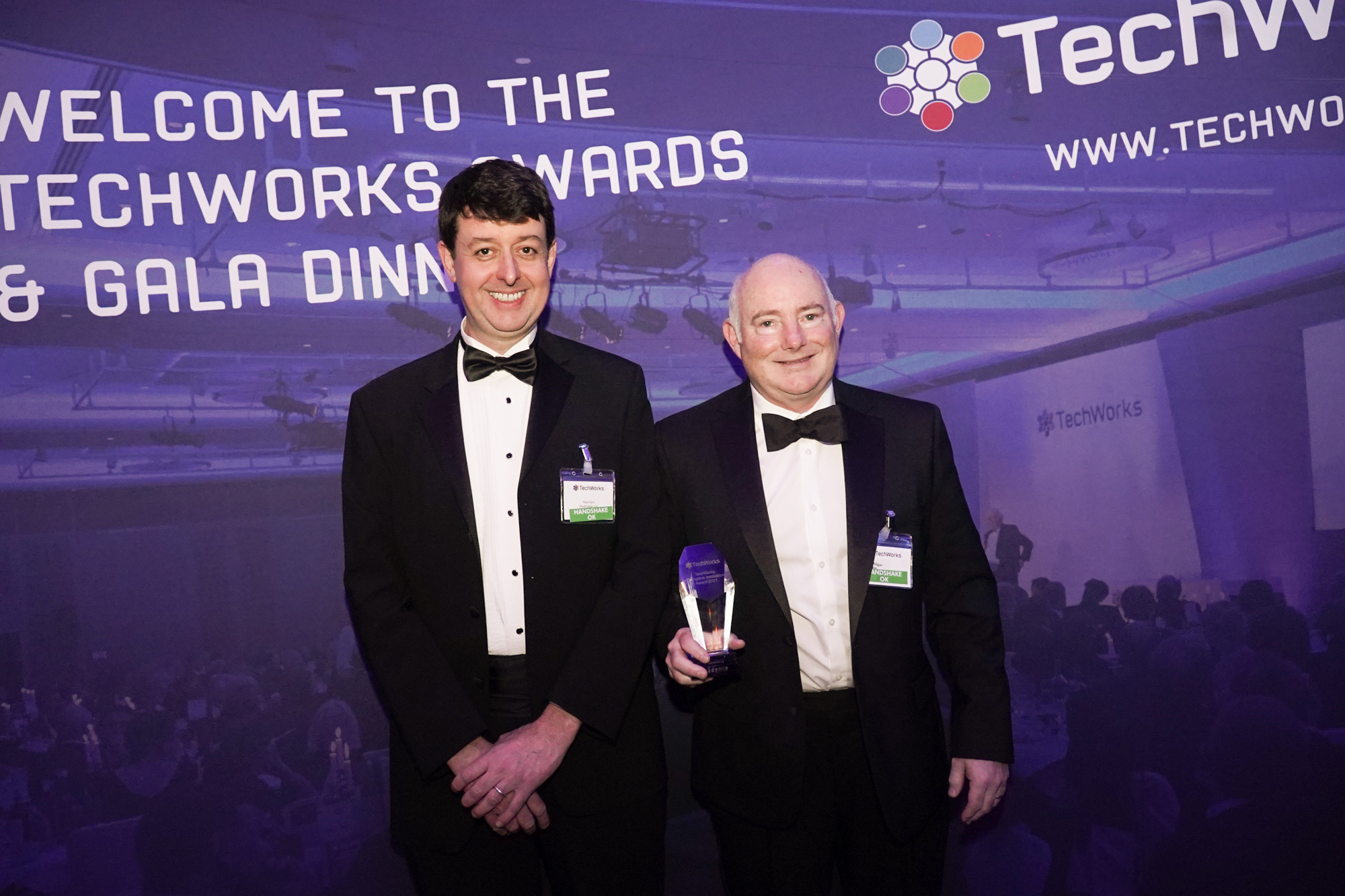 Cambridge (UK), 14 December 2021 – FlexEnable, the leader in the development and industrialisation of organic electronics for flexible displays and liquid crystal optics has won the prestigious Disruptive Innovation Award for 2021 at the TechWorks Awards.
FlexEnable has been recognised for its glass-free, smart tinting films that can uniquely be thermoformed to follow complex biaxial curvatures necessary for applications such as automotive smart windows, AR headsets and smart glasses, where simple one-axis bends are not sufficient.
Made with a low temperature manufacturing process compatible with existing LCD production lines, the technology is currently being transferred to several Asian fab partners for applications in CE and automotive where surfaces with complex curvatures need to actively modulate, steer and even focus light.
The awards celebrate the year's key electronics innovations, people and companies from across the UK and Ireland. The TechWorks Awards have run since 2001 - originally branded as the NMI Awards. The Disruptive Innovation Award is given to the company that can demonstrate a significant business impact through innovation. This can cover any aspects of innovation whether in business process, manufacturing, service provision or product development.
FlexEnable's flexible Smart Window technology is built on flexible bioplastic films thinner than a human hair - meaning a square metre of the active film weighs just 100g. Crucially, the film can be biaxially thermoformed in to follow complex curvatures such as the surface of a sphere, enabling the control of light transmission through almost any surface.
Chuck Milligan, CEO of FlexEnable said: "We are very delighted to receive this prestigious award. This is a great recognition of the recent and fundamental technology breakthroughs achieved by the FlexEnable team. Liquid Crystal Cells, built on bioplastic films, bring a new wave of functionality from high dynamic range, colour neutral, films that switch at video-rate and can be curved to follow the complex contours of smart-glasses, car windows and other surfaces. With many of the world's biggest consumer electronics brands as partners and first production starting in 2022 to serve a $100Bn addressable market, this is a very exciting time for the company and our partners.
-ENDS-
About FlexEnable
FlexEnable has pioneered the world's first flexible electronics technology platform that allows electronics made of organic materials to be manufactured on flexible bioplastic films, the thickness of a sheet of paper. Compatible with existing display manufacturing lines, FlexEnable's complete solution of manufacturing process IP and FlexiOM™ organic semiconductor materials is the key to truly flexible and cost effective electronics over large and small surfaces. The core applications of this technology are glass-free, flexible displays (Organic LCD) and biaxially formable Liquid Crystal Optical films that modulate, steer and focus light, enable game-changing products across a variety of industries including consumer electronics, AR/VR, automotive, TVs and digital signage. FlexEnable supplies FlexiOM™ materials and transfers and licenses its unique technology platform to display manufacturers, whilst partnering directly with many of the world's biggest OEM/Brands developing next generation products, from design to prototyping and product qualification, through to volume production.
Companies interested in working together with FlexEnable should contact info@flexenable.com.
Media Contact: pr@flexenable.com

Join an ambitious, supportive community of world-class scientists, engineers and entrepreneurs