Cambridge Science Park North
After 50 years of success at Cambridge Science Park, Trinity College has begun to consult on a proposal to transform a parcel of adjacent agricultural land to the east of Histon and Impington  into a world-leading centre of excellence for skilled manufacturing and development. 
Branded as Cambridge Science Park North, the proposal is at early stages with a submission having been made into the Call for Sites process which forms part of the Greater Cambridge local plan.
Cambridge Science Park North will be an extension of, and benefit from, the successful innovation ecosystem of the existing Science Park and will be nurtured, retained and managed by Trinity College
It will promote social inclusion by facilitating the creation of skilled well-paid jobs in local companies where people from all backgrounds will work together. 
The Centre will be nestled in approximately 400 acres of stunning parkland with recreational facilities open to both science park employees and local residents.
The development will be an early adopter of environmental initiatives including green transport, waste management, energy, ecology and smart buildings and provide a test-bed for companies developing and manufacturing sustainable products and services in Cambridge and further afield. 
Cambridge Science Park North will work alongside the improvement proposals already developed for the existing Park, utilising its unique location to provide ground breaking transport solutions which will minimise car usage across both parks by maximising the opportunity to travel using alternative methods.
Trinity college is committed to an extensive programme of consultation, to work with both residents and stakeholders, including working with the local plan process so that the final proposals meet the aspirations of Greater Cambridge.
To register to receive updates please click here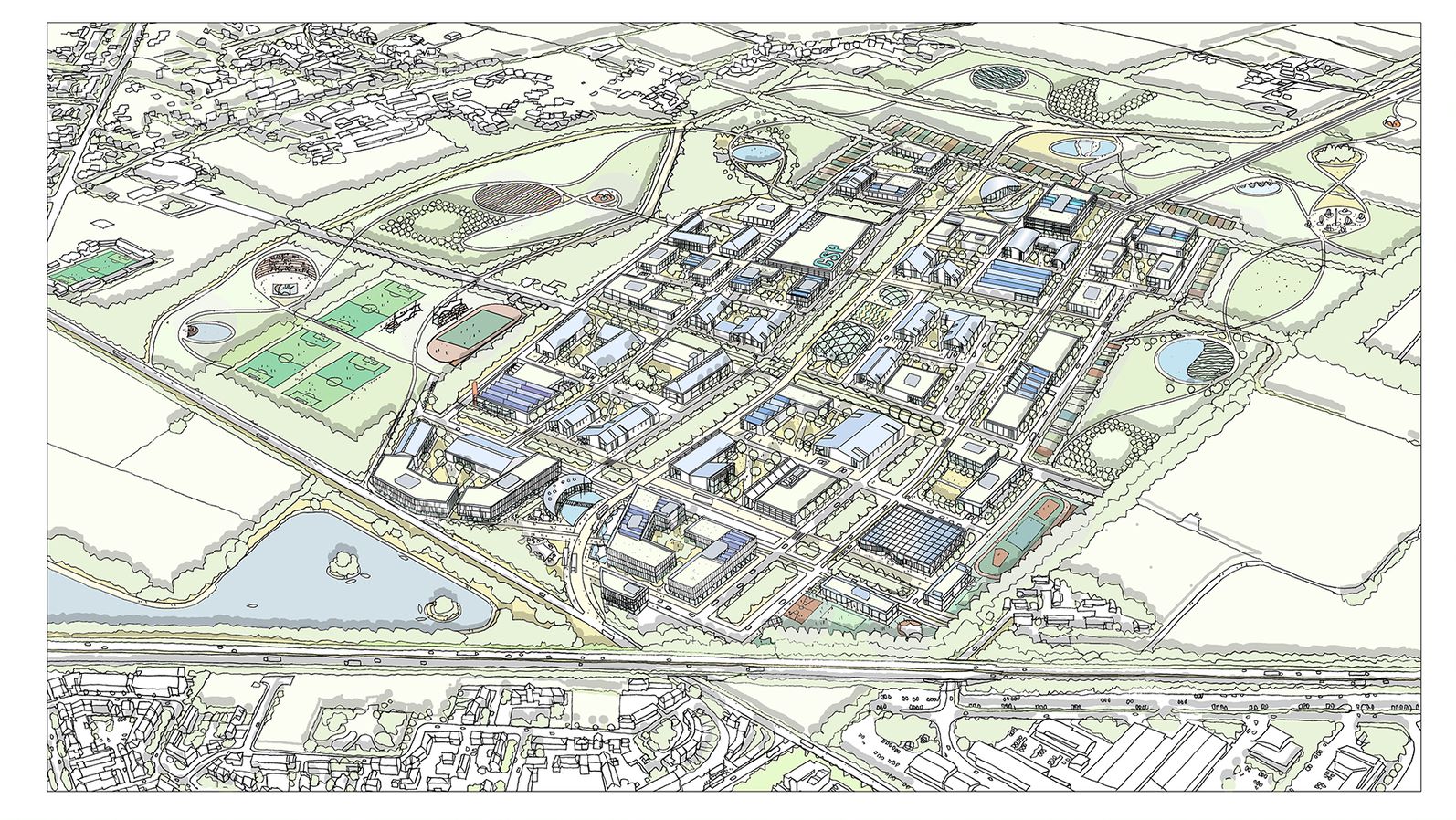 Location and Design
Science Park North will be created on land which is currently used for farming, but is located close to the Park and Ride and the waste transfer site which are both accessed from the A10.
It is located close to the Area Action Plan land to the east and the Project Team is working closely with AAP Members on a number of areas which are of mutual interest. It is anticipated that the timescale for the AAP process will match the development timescale for the Greater Cambridge Local Plan and the CSP North timetable is planned to complement this.
CSP North is also located close to Cambridge Regional College, which sits between the existing science park and the proposed expansion land.  Discussions are underway with CRC  with the ambition of providing facilities for greater collaboration in the future which could be in the form of expansion but also education and work apprenticeship schemes for future students of the CRC.
The location to the North of Cambridge means that, with the right innovative approach to transport, the employment opportunities will be accessible by sustainable transport from the new communities that are being created around Cambridge – such as Northstowe and Waterbeach.
It is anticipated that approximately 50% of a potential 163 hectare area will be used for accessible open space connecting Science Park North to its surrounding communities.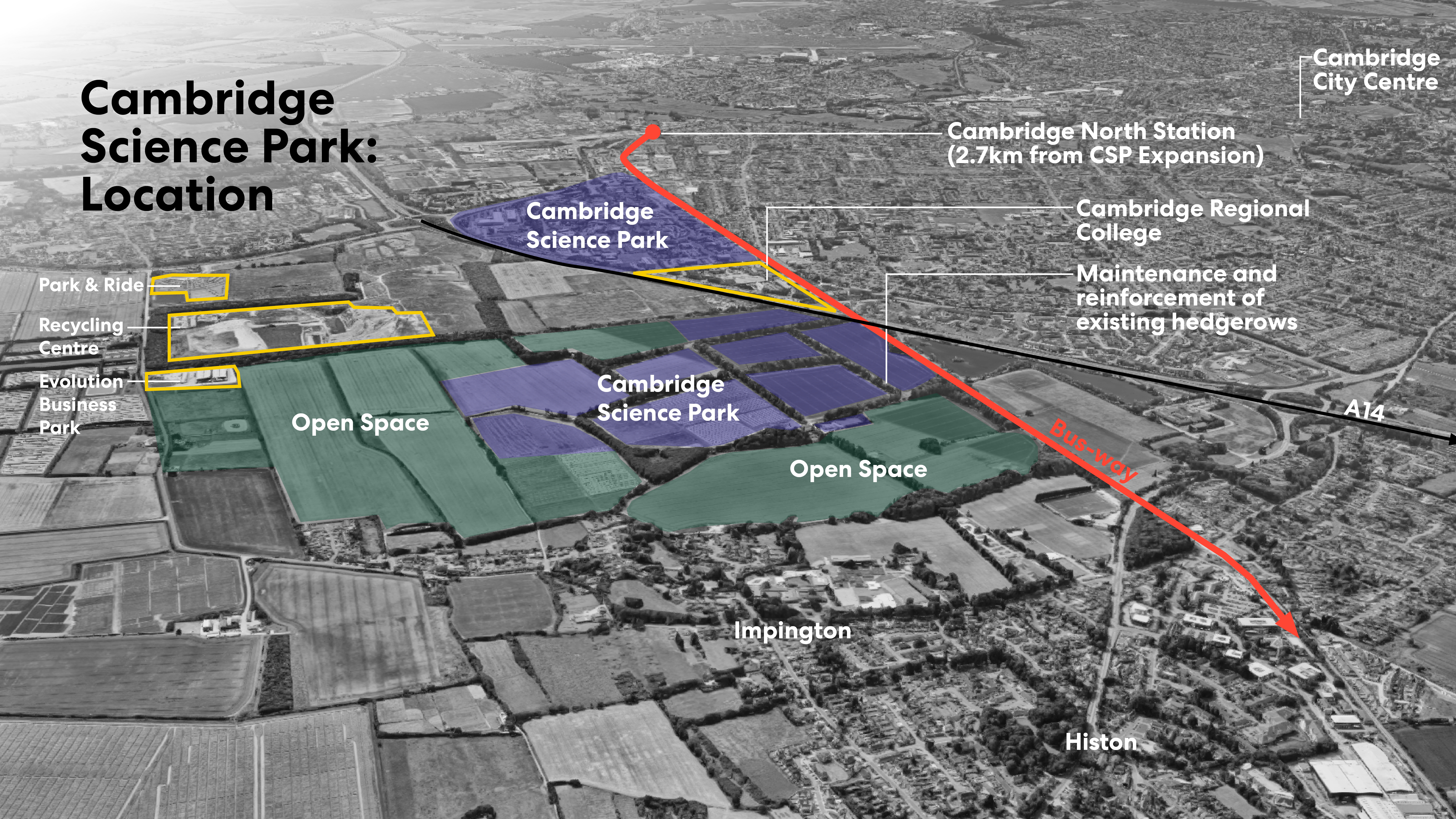 Green Space
Approximately 50% of the identified land will be used for accessible open space.  The final use of this green space has yet to be decided, but early ideas include, trim trails and walking routes, formal sports and recreational facilities, play areas, public parkland and/or cycling trails.
The aim will be to compliment the existing Milton Country Park, utilising the improved cycling and walking infrastructure that will form part of the AAP to join the two together.
The existing farmland has the opportunity of being transformed to create a truly biodiverse environment that will be fully accessible to all.

Transport
The transport strategy for Cambridge Science Park North is targeted at complementing the improvement plans for the existing science park. The initial aim is to ensure that there is no increase in car use across the two sites, with a medium and long-term target of reducing car usage across the two sites completely.
The early ideas are to provide a consolidated space for parking which will serve both Science Park sites, which will be linked to a mobility hub providing pedestrian, cycling, autonomous vehicle and sustainable mass transit facilities for onward travel.  These will utilise existing infrastructure such as Mereway Cycle Route and the Guided Busway as well as proposed infrastructure such as The CAM.
These proposals will improve access to the whole of Cambridge, reducing current traffic on the Milton Road by providing a hub serving the wider AAP area including access to Cambridge North Station. Employment and Economy
It is anticipated that CSP North will create 3000 plus new jobs, with a focus on skilled manufacturing and development, which will complement the existing park but not replicate it.
The economic assessments that have been carried out so far suggests that there is a clear demand for this type of employment provision. The ability to provide occupational space that allows the research, prototyping, development and manufacture of high value products support Cambridge and UK business in a key area identified by the Governments Industrial Strategy.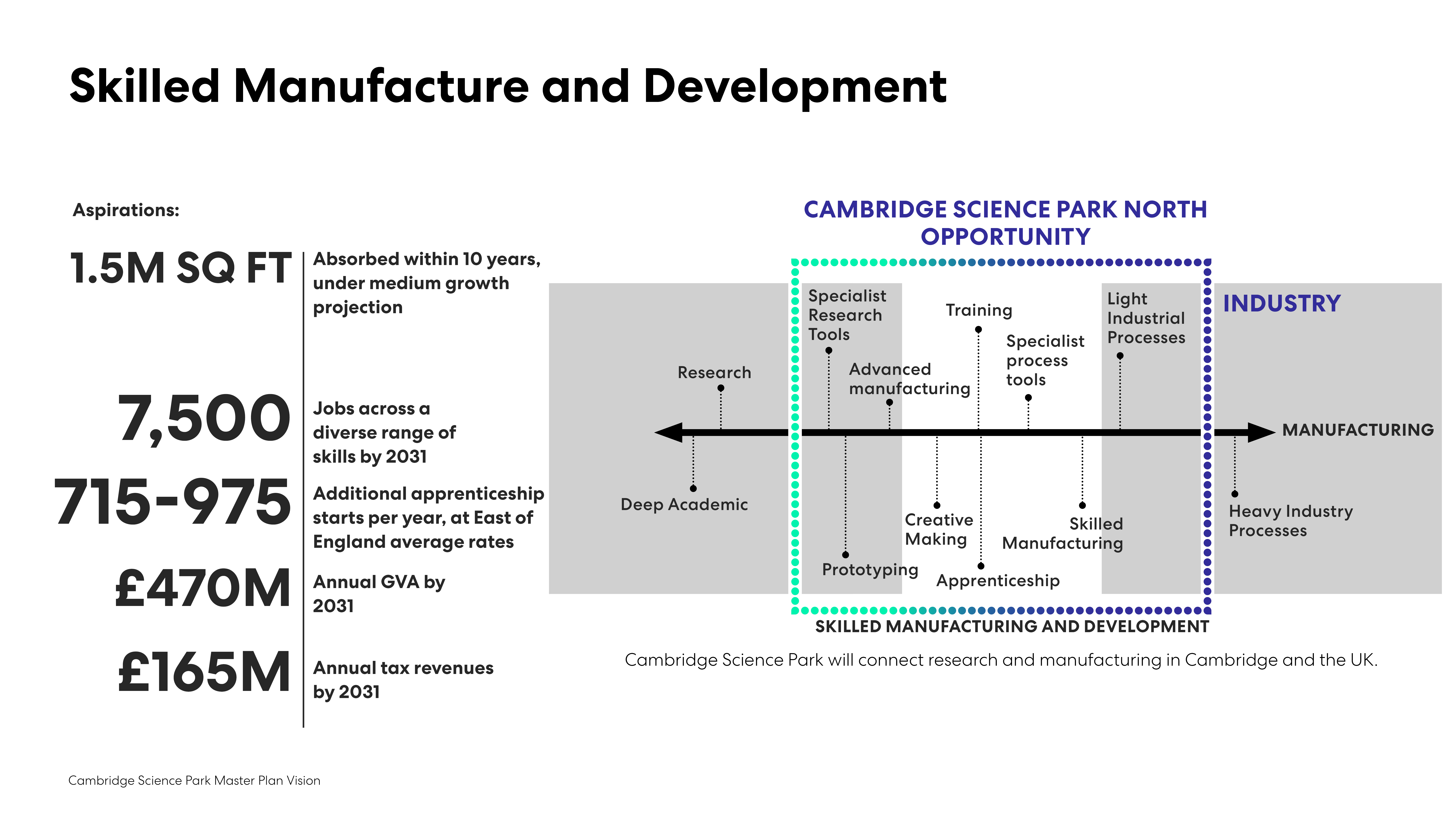 Sign up for updates
Submission Successful!
We'll be in touch soon.