Date

9 Jun 2020

Sectors

Technology
FlexEnable has been named in the cofinitive #21toWatch campaign. The award recognises the People, Companies, and the 'Things' that they create that are setting the standards in innovation and entrepreneurship across globe. FlexEnable has been recognised for its groundbreaking flexible OLCD (Organic Liquid Crystal Display) technology, which enables low-cost, large area glass-free LCDs that can be conformed and wrapped around almost any surface.
On Tuesday 9th June during an online live broadcast FlexEnable's Strategy Director, Dr Paul Cain, had the opportunity to speak in front of a large audience, many of whom were investors, entrepreneurs and business leaders.
cofinitive's founder Faye Holland said "We are so pleased that FlexEnable has been named in our Top21.2020 #21toWatch list, the accolade is well deserved and we look forward to following their progress."
"Over the past 12 months we've continued to collate hundreds of submissions in response to our #21toWatch campaign and the criteria we set was pretty tough: each submission, whether it was a company, individual or 'thing' that they create, had to demonstrate a set of attributes: Innovation; Challenge; Influence; Viability; and Memorability. What all our winners have in common is something that has the potential for huge impact or a personal, company or product basis," Faye continued.
Dr Paul Cain, Strategy Director of FlexEnable said "We are delighted to be named in cofinitive's Top21.2020 #21toWatch list. Our flexible electronics technology brings greater design freedom by enabling non-flat and non-rectangular displays that can be seamlessly integrated into products. Designed to be manufactured at low cost in existing LCD factories and repurposing existing equipment, OLCD has the potential to replace flat glass displays across an $80 billion addressable market, redefining where and how we use active surfaces in our lives."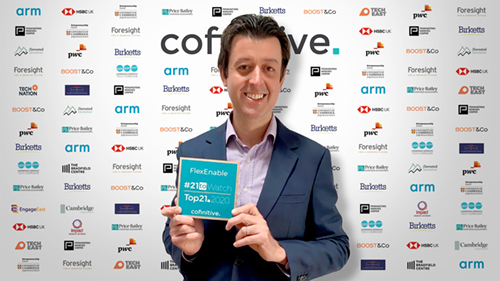 About FlexEnable
With over 1000 patents and more than 1000 engineering years in the development of organic materials and manufacturing processes, FlexEnable is the worldwide leader in organic electronics. We have developed and industrialised a complete low-temperature manufacturing process for small and large-area organic electronics on ultra-thin plastic substrates. FlexEnable also owns the best-in-class, highest-performance organic materials - FlexiOM™ - making us the only company to offer both materials which are better than amorphous silicon and industrially-proven enabling manufacturing processes. FlexEnable is bringing organic electronics technology to market in a fabless business model. Our processes and solutions have been developed to be run on existing flat panel display lines, leveraging existing assets and supply chain. Applications for FlexEnable's technology include flexible displays for consumer electronics and automotive interiors, flexible sensors and optics. FlexEnable supplies FlexiOM™ materials and transfers and licenses its unique technology platform to display manufacturers. We also work directly with OEM and Tier 1 companies on developing next generation products, from design to prototyping and product qualification all the way to volume production.
For more information please visit www.flexenable.com or contact info@flexenable.com.
Media Contact: pr@flexenable.com

Join an ambitious, supportive community of world-class scientists, engineers and entrepreneurs