Promoting sustainable travel
A wide range of initiatives are underway to support and encourage sustainable travel.
Click here to download a presentation on transport initiatives aimed at alleviating congestion.
---
Travel Plan Plus
We have been a member of Travel Plan Plus (TP+) for the last last 7 years. Travel Plan Plus (TP+) is a Smart Journeys formerly Travel for Cambridgeshire (TfC) Project providing support to organisations in the north Cambridge area including the Cambridge Science Park. TP+ is based at the Bradfield Centre on the Park. Transport Manager Prajina Baisyet is on hand to offer practical advice and support to employees on the Park.
Science Park Transport Special Interest Group
The Science Park Transport Special Interest Group is hosted by TP+ and meets quarterly to discuss a wide range of transport related topics. One representative from every company on the Park is welcome to attend.  
Reducing car trips
The most practical way for us to alleviate congestion is to reduce the number of cars coming onto and off the park in the rush hours. Here are some of the measures we have implemented to address this issue:
free taxi service for commuters using Cambridge North Station   
free e-bike scheme from Longstanton P&R
a permanent cycle hub on the Park with five day bike repair service
a Park wide car share club
More than  20 companies took part during Cycle September organised Love to Ride and the Royal Society of Chemistry earned the highest points 39,838 for the Park.

3-day commuter challenge where drivers are encouraged to try a different mode of transport for 3 days in return for a reward

ensuring that every new building on the Park has shower facilities as well as covered and lit cycle racks

producing travel plans for individuals on the Park to compare green travel options with driving
annual Transport Expo (16 May 2019)
The companies on the Science Park share our committment to sustainable travel and are also implementing a variety of measures. These include allocating designated and prime parking spaces to car sharers and offering incentives such as free coffee, breakfast or other giveaways to those who car share.
---
Driving
Cambridge Science Park CarShare Club
What?
A new initiative for people who work on the Park and are willing to car share even just as a one-off event e.g. if your car is in for service
Why?
To reduce congestion especially when the A14 roadworks are set to continue to December 2020
How it works
Join a dedicated Cambridge Science Park What's App Group exclusively for people who live in your town or village and work on the Park. Once in the Group, you can message people the night before offering or requesting a lift for the following day so you have maximum flexibility. CSP has established 35 groups on WhatsApp i.e. one WhatsApp group for each of the 35 towns and villages. 140 CSP members have joined at least a WhatsApp Group.
Ecar Club
Enterprise Car Club is available outside the Trinity Centre for hire by the hour or day for business trips or weekend outings. Vehicles are available 24/7/365 in 23+ cities across the UK. Become a member here
---
---
Cycling
Bike repair and servicing
Crazy Spanners now operate from our new Mobility and Cycle Hub which provides the same day cycle repairs, parts and accessories service every day from 8am to 5pm. The hub is located adjacent to the Bradfield Centre.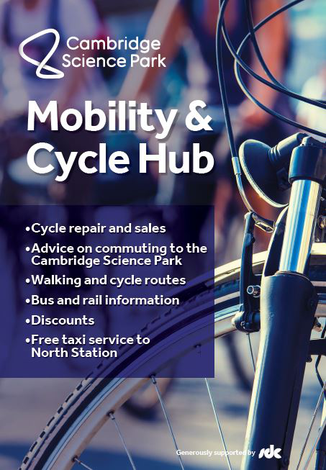 Cambridge Cycling Campaign
Cambridge Cycling Campaign is a charity run by volunteers. Founded in 1995, its aim is safer, better and more cycling in the Cambridge area where about half of the local population uses a bike at least once a month. Many of the cycle facilities such as paths, lanes, traffic signals, bridges and cycle parks would not exist without the work done by our members.
Cycle Journey Planner
CycleStreets is a UK-wide cycle journey planner system which lets you plan routes from A to B by bike. It is designed by cyclists, for cyclists, and caters for the needs of both confident and less confident cyclists. 
The Bike Hub Cycle Journey Planner
BikeHub.co.uk is a joint initiative of the Bicycle Association and the Association of Cycle Traders via the Bike Hub levy scheme. Finds the quickest or quietest cycle routes on your smartphone. 

Start Cycling
Do you live more than 3 miles from work and would like to cycle, but think it is too far? Take a look at the TP+ Start Cycling Guide and get some great tips and advice on how to get on your bike.  
E-Bike Service from Longstanton
This service is available to park members who live in West Cambridge and wish to reach the park on an ebike. To sign up, visit here
---
---
Bus
Taxi/Shuttle Bus
New taxi/shuttle pick-up point at Cambridge North Station - Click here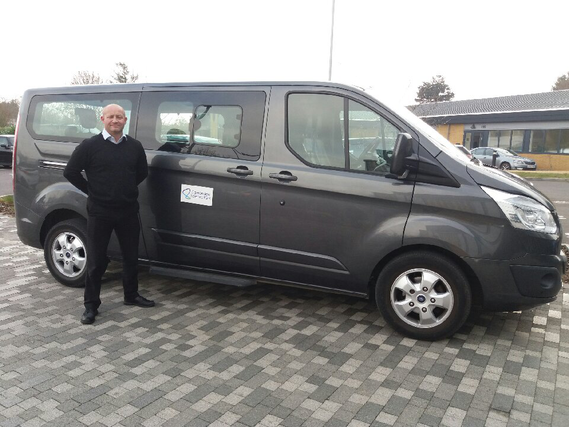 Bus
If you drive to work and have never been on a bus before and if you live in Cambridge or Peterborough area, why not try a a free 'try it' bus ticket for a day,  available from our Transport Manager Prajina Baisyet

Review of the King's Hedges Junction
The review of the Kings Hedges Junction was completed at the end of March 2019.
Initial findings:
- Some of the bus inputs were being demanded too early causing the bus stage to appear either too early or in some circumstances extending for too long
- The signal timings could be adjusted to allow more vehicles to make the left turn from King's Hedges Road into the Regional College Road. There was also scope for extra green time in the evening peak for the Regional College Road
- Currently there are stages which are demanded with no vehicles present. One of these is the King Hedges Road westbound right turn. This is caused by ahead vehicles missing the pot hole and overrunning the right turn lane, placing a demand for the right turn movement. 
Action taken:
On 20 March the amended timings were implemented. This gives a further 15 seconds on the King's Hedges eastbound left turn in the morning and a further 9 seconds on the Regional College Road in the afternoon/evening.  The advanced bus detection inputs were disabled and the detector that was detecting buses too early was adjusted.  The issue of the pothole has been partly addressed as it seems to have had some remedial attention carried out following the reporting of it to CCC. However some vehicles are still overrunning the right turn loop. This issue should be resolved when the carriageway is resurfaced week commencing 25 March and the replacement loops recut differently in order to minimise overrun by ahead vehicles.
 
The result of these bus input/detection changes are:
- the buses are now being demanded accurately and the green time given appropriate to the number of buses present
- the level of queuing for the morning on King's Hedges Road  eastbound left turn is significantly less and the queue observed the previous week did not materialise
- due to exit blocking on King's Hedges Road westbound exit,  there are queues all along the Regional College Road as well as the internal route network of Cambridge Science Park, which may/may not be linked to the A14 westbound queuing 


---

Contact us
Thank you for your enquiry!
We'll be in touch soon.