Universities in Cambridge
Cambridge is home to two universities: the University of Cambridge is the second-oldest university in the English-speaking world and is ranked second in the world; and Anglia Ruskin University - one of the largest in the East of England with around 39,400 students worldwide. Its campuses are located in Cambridge, Chelmsford and Peterborough.
---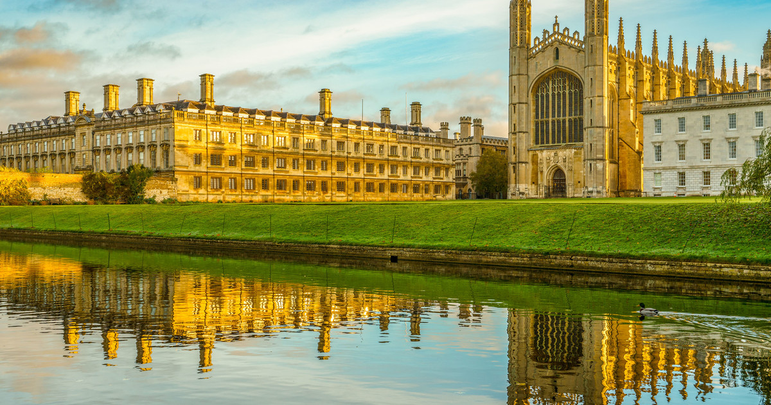 University of Cambridge
With more than 18,000 students from all walks of life and all corners of the world, over 11,000 staff, 31 Colleges and 150 Departments, Faculties, Schools and other institutions, no two days are ever the same at the University of Cambridge.
The University is a confederation of Schools, Faculties, Departments and Colleges. The 31 Colleges are governed by their own statutes and regulations, but are integral to the make-up of the University. 
As well as being a member of the University and of an academic Faculty/Department, our students also belong to a College community, an arrangement that offers pastoral and academic support for each individual.
The University is a confederation of Schools, Faculties, Departments and Colleges. The Colleges are governed by their own statutes and regulations, but are integral to the make-up of the University of Cambridge.
Colleges - Students live, eat and socialise in one of the University's 31 autonomous Colleges. Undergraduates receive College supervisions – small group teaching sessions – regarded as one of the best teaching models in the world.
Each College has its own internal procedures. They select their own students, subject to University regulations, and most admit both undergraduate and postgraduate students. College representatives sit on the University Council and Finance Committee.
Schools - There are six Schools, which each form an administrative grouping of Faculties and other institutions. They are: Arts and Humanities, Biological Sciences, Clinical Medicine, Humanities and Social Sciences, Physical Sciences, and Technology.
There is a Council of each School – including representatives of its Faculties and Departments. The Schools are represented on the General Board.
Faculties and Departments - University Faculties organise teaching and research into individual subjects or groups of subjects. Their work is normally organised into sub-divisions called Departments.
Centres of studies are controlled by committees of management, bringing together representatives from several disciplines.
---
---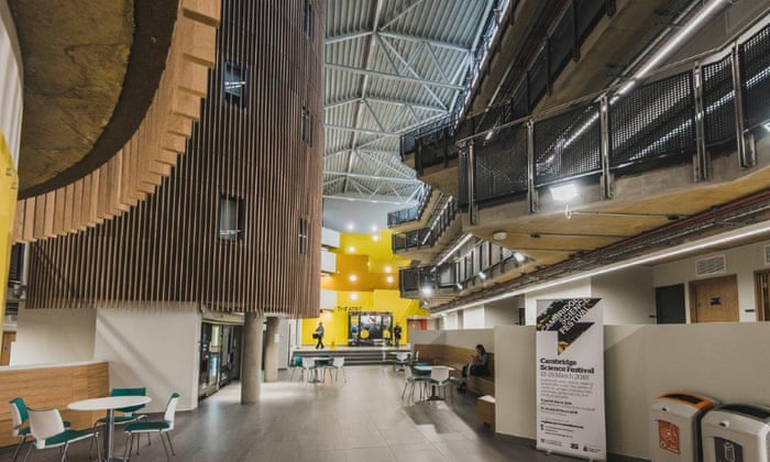 Anglia Ruskin University
The Anglia Ruskin University campus is a stone's throw from the centre of Cambridge.
Anglia Ruskin University has been here in Camrbridge since 1858 when Cambridge School of Art first opened its doors. The art school grew to become Anglia Ruskin University and it's still at the heart of our modern-day campus on East Road. Surrounding the red-brick Victorian building, with its vaulted ceilings and light-filled studios, is a host of new facilities.
You'll find:
Business School, which wraps around a tree-filled central courtyard
High-quality study facilities – lecture theatres, mock law court, forensic science labs, and a TV studio
A brand-new Science Centre featuring molecular biology and psychology labs, a 220-seat Super Lab, and five crime scene rooms
The university library and open access computer area
Cafés and roof terraces
The Mumford Theatre and Ruskin Gallery
A range of services including the Students' Union shop, medical centre, gym, Employment Bureau, and finance and accommodation offices.
Just around the corner from campus, there's the dedicated healthcare site on Young Street, which houses state-of-the-art clinical skills labs including mock hospital wards, and a child nursing and midwifery ward. 
Meanwhile Compass House – a short walk along East Road – features audio and music technology recording studios, sport and exercise science labs, and computer science/gaming labs.
They have invested £100 million in their facilities in the past five years, and plan to invest a further £91 million over the next five years.
---
All information displayed on this page is indicative and correct at the time of posting. This information is displayed as a guide only. Please seek independent advice on any information listed